Eskenazi Museum of Art Provenance Project
Introduction
What is provenance and how do we document it?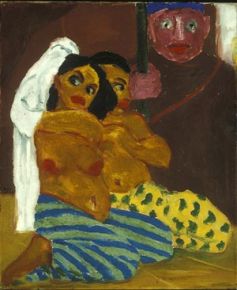 Provenance is the ownership history of a work of art. Through extensive research on museum holdings, the Indiana University Art Museum strives to document the complete provenance history of each object in its collection, from the time the work was created until the time it entered the IU Art Museum's collection. Works that could have been in Europe during the Nazi era (1933–1945), and that have gaps in their provenance during this era, are priorities. Research on these works begins with a close examination and photographic documentation of all labels, markings, and inscriptions on the backs of the pieces. Further information is culled from a thorough review of curatorial and registrarial files, catalogues raisonnés, exhibition and sales catalogues, and archival documents.
Warning
: count(): Parameter must be an array or an object that implements Countable in
/groups/artmusem/web/provenance/index.php
on line
55
Additional Information
Information on the Nazi-era provenance, the works that are listed on this site, and the information included for these works can be found here.